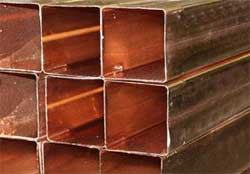 Tube Tech manufactures a wide variety of Copper Square Tubes suitable for most diverse engineering applications. Copper Square Tubes are available in outer diameters 6 mm to 50 mm with wall thickness combination 0.6 mm and above. These tubes are available in a variety of tempers viz: Hard, Half Hard, soft annealed. Square Copper Tubes are available in both commercial grade (DHP Grade) & Electrolytic grade (ETP Grade) to suit the intended applications.
Product Features:
1. Outer Diameter - 6.00 mm to 50.00 mm
2. Wall Thickness – 0.7 mm and above
3. Available in lengths up to 6 mtrs.
4. Available in a variety of tempers as per the requirements.
5. ASTM, BS, JIS, IS, DIN and all other common specifications.