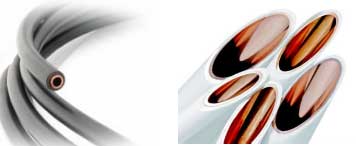 Tube Tech manufactures PVC Coated Copper Tubes & PVC Coated Copper Coils for diverse applications. These PVC coated copper tubes – Plastic coated copper tubes are manufactured in a variety of options for use when copper tube is to be used in a potentially aggressive environment to ensure copper tube's longetivity in service. Our PVC coated copper tube – Plastic Coated Copper Tubes eliminates the need for on-site tape wrapping or sleeving, creating a savings on labor and ensuring a professional looking installation.
Copper Tubes are manufactured in accordance with ASTM B 75 / ASTM B 68 or other common standards while PVC Coating is done in accordance with ASTM D 1047. PVC coating / plastic coating can be done in any colour desired by the customer.
PVC coated copper tubes & copper coils are available in outer diameters 6 mm to 22 mm and wall thickness 0.45 mm and above. We can manufacture these PVC Coated Tubes in lengths up to 30 mtrs.
End Applications: Air conditioning & Refrigeration, Natural & LPG Gas Applications, Fuel Oil Applications, Cold & Hot water applications, Chemical applications etc.